The Birds
by Svenska Studios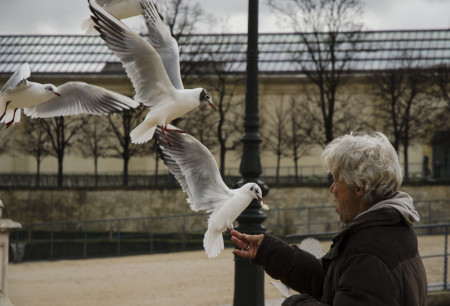 The ride on the Grand Roux at Place de la Concorde was wonderful with February winter skies as a backdrop but it was all too short. As I exited and headed towards the Tuileries, a flock of birds circled around a scruffy character and hovered in time and space patiently waiting for a turn at the outstretch hand offering thick gobs of French bread. I had no time to wait and I quickly eased into position to capture the moment.
I don't know whether he noticed me or not as he clearly was focused on the birds as a conductor directing them into place for each to have a turn in the line for a piece of bread. Clearly this was not their first encounter with each other. Perhaps it was a daily ritual in the winter when the tourists are gone and the birds work harder to find sustenance. Then just as fast as the flock descended, the birds dispersed and so did the man as if nothing ever happened. From that moment came these photographs that are forever etched in my memory.
All prints on this website are © copyright Karen Akerson/Svenska Studios. The prints may not be used in any fashion except for Internet browsing. Any other use is a violation of US and International copyright law. All rights reserved.
[Not a valid template]