Moulton Barn
by Svenska Studios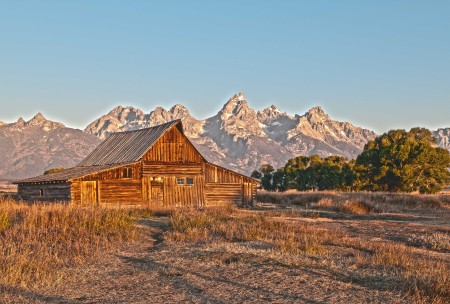 It is the most photographed barn in America. Every day photographers stand in the predawn cold staking out his or her place with a tripod to take the same picture as everyone else on that particular day. For many, it is their only chance as they pass through the Grand Tetons and stop at Mormon Row. I did the same on cold morning in September 2011. The Barn was 98 years old that year. Now it is celebrating its centennial and in need of repair if it is going to survive for another 100 years.
It was a lackluster morning. The sky was clear and the Tetons void of snow. The grass in front of the barn was dry as a bone after the summer heat and it would be a long time before the varied hues of green dotted the landscape once again.
I took my position carefully, having gotten to the location long before the first hint of sun. Once in position, that was it. It was actually hard to choose between the Moulton Barn and another one along Mormon row that actually had more character. I often wonder how something so basic became so famous. Yet it is not really the barn, it is truly the Grand Tetons that tower behind it and give it a breathtaking backdrop.
And so I waited. As the light began to creep into the scene with the purple hues of early morning I started to snap photos. I wanted to record the beginning of light as it first dawned in the valley and then crept above the horizon to bath the barn in a moment of full sunlight. This was another lesson in how timing is everything. The pictures of Moulton Barn are really the best when taken by a local photographer who checks the weather regularly and then goes out again and again to the same place waiting for just the right moment.
Like so many others passing through, however, these are my pictures of Moulton barn taken with my frozen fingers on that late September morning.
All prints on this website are © copyright Karen Akerson/Svenska Studios. The prints may not be used in any fashion except for Internet browsing. Any other use is a violation of US and International copyright law. All rights reserved.

[Not a valid template]